Have you ever changed your blog background and
lost some of your sidebar widgets
? You are not alone. This happens all the time. There are a few ways to change your background.
Simple
- The blog designer gives you a short code that you add to a HTML Widget Box on your sidebar. Your background changes but everything else stays put, you will not loose any widgets.
More Complex
- The blog designer gives you directions on how to change your Main HTML or replace your Main HTML. This allows the designer to add more things to your blog for you, but the danger is that you
may
loose some of your widgets (very annoying).
I just checked out this blog: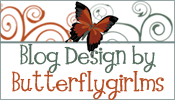 She has Simple Backgrounds and More Complex layouts!
I like how she spells out each step in the process. Saving you from loosing any widgets permanently.
You should go visit her site, everything is free :)